Sign-up for Fall Holiday Workshops Coming Soon!

"It was great. Cameron Anne was a wonderful teacher. She gave very clear instructions and lots of additional tips. She was always available if help was needed. A wonderful experience." 
Surface Design Workshops at Building C
Cameron Anne Mason has been sharing her surface design expertise with students since 2005. Her workshops emphasize process and experimentation. Students learn to control technique while celebrating the happy accident.
Cameron uses fiber-reactive dyes in the studio, which are versatile and colorfast, and she emphasizes safe studio practices. Participants in intensives will receive written materials with recipes and instructions for techniques taught in workshops. All classes will be taught in the artist/instructor's airy 600-square-foot studio in the historic Ballard neighborhood of Seattle near convenient coffee shops, stores, and restaurants.
From 3-hour scarf workshops to weekend intensives, there is always plenty to learn and share.
To register or to get more information, email me directly on the Contacts page or at cameron@cameronannemason.com.
Batik Silk Scarves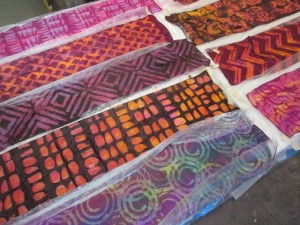 A great way to create one-of-a-kind holiday gifts or share a unique experience with friends and family!
Saturday, November 21st,
10am-1pm and 2:30-5:30pm
Sunday, December 6th,
10am-1pm and 2:30-5:30pm
Wednesday, December 9th,
6:30-9:30pm
Saturday, December 12th,
10am-1pm and 2:30-5:30pm
In this 3-hour workshop, you will be introduced to the ancient art of  batik with a modern twist to create beautiful, one-of-a-kind silk scarves. You will apply soy wax as a resist using a variety of simple tools then brush on vibrant dyes to complete fabulous silk scarves. Cameron will demo the process, share tips, ideas, and samples of finished scarves to get you started. Cameron will steam, set, and wash all the completed scarves, which can be picked up or mailed.hand-dyed batik silk scarves
$60 workshop fee includes one scarf,
Additional blank scarves are available during the workshop for $10.
Optional mailing fee is $2.50.
Private sessions are a great way to spend time during the holidays with family and friends. Contact me if you'd like to schedule.
"Cameron was patient and generous with her knowledge. She was encouraging, fun and supportive. I wish the class was longer . . ."
Upcoming Winter/Spring Intensives!
Dyeing for Quilters (and other people who love fabric)
Take your fiber arts in a new direction by creating your own hand-dyed fabrics. This three-day workshop will focus on low-water immersion dyeing, color theory, and bound resist (shibori) techniques. Gradations in color and value, visual texture, and creating neutrals with complementary colors will be explored. Students will come away with a good start on their personal dye reference book, written instructions and recipes, samples, and yards of their own hand-dyed fabrics.
Tentatives dates: January 29-31, 2016
The Printed Surface:
Mark Making Using Thickened Dye
Using fabric as a canvas and thickened dye as a medium, students will make marks with a variety of tools such as stamps and silkscreens. Explore the unique qualities of the silkscreen as a tool for improvisatory mark-making. Students will create textured and layered art cloth which can be used in collage, print, art-to-wear, and quilting.
Tentatives dates: March 4-6, 2016
Surface Tension: Using Low-Tech Resists for Complex Results
Working with fiber-reactive dyes, we will layer resists to create complexity and depth of color on fabric. Shibori binding, organic pastes from the kitchen and beyond, and soy wax will be used, each method creating its own characteristic marks. Students will receive handouts covering dye chemistry and safe studio practices. Techniques are easily grasped yet endlessly variable.
Tentatives dates: April 1-3, 2016
Email cameron@cameronannemason.com for information about upcoming workshops.