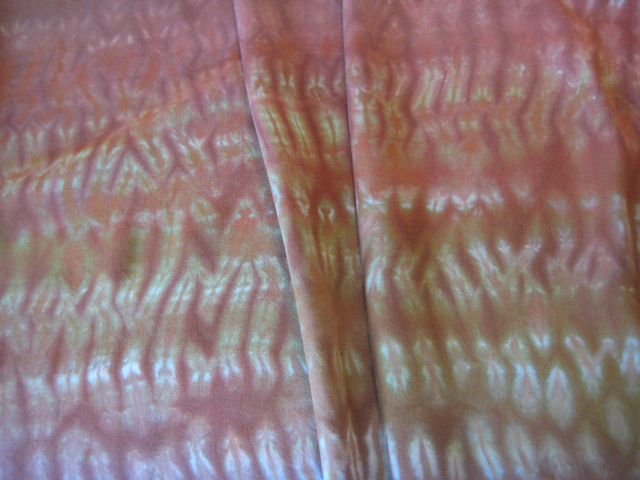 I had a little unstructured time at the studio recently and decided to try a hand-stitched shibori resist. I've never done this before because I don't have much patience for hand-stitching. First thing I noticed, no big surprise, it took a long time to do the stitching. I kind of enjoyed it though, I listened to music and got into a bit of a meditative state.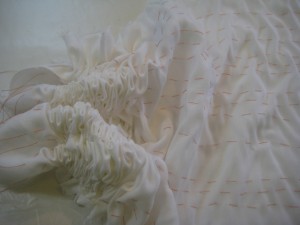 Here's the piece, a length of white rayon, fully stitched and partially pulled taut for the resist. I wasn't sure how well the resist would work because the fabric is somewhat loosely woven. One more thing to think about while putting in those hours of stitching!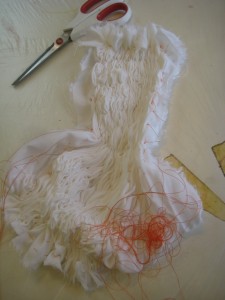 Here's the piece ready for dyeing. After I pulled all the threads, I rethreaded each one and secured it on both sides of the piece while pulling taut. Again, all this time, I'm wondering if this is going to work at all.
I dyed the piece with Moss Green and Rust Brown procion mx dyes from Dharma Trading. I was a little disappointed by the color saturation of the dye on the finished piece. I dyed a few other pieces of rayon at the same time with the same results. I'm surprised because I've had really good results with rayon before.
Overall though, I'm  happy with the piece. The stitching resist worked and looks pretty much like all the pictures in the books. My stitching is a little uneven, but it doesn't really seem to matter. I like the look of it, very organic. Will I decide I like it enough to spend those hours hand-stitching? Hmmm, maybe I'll try the machine stitched version first.