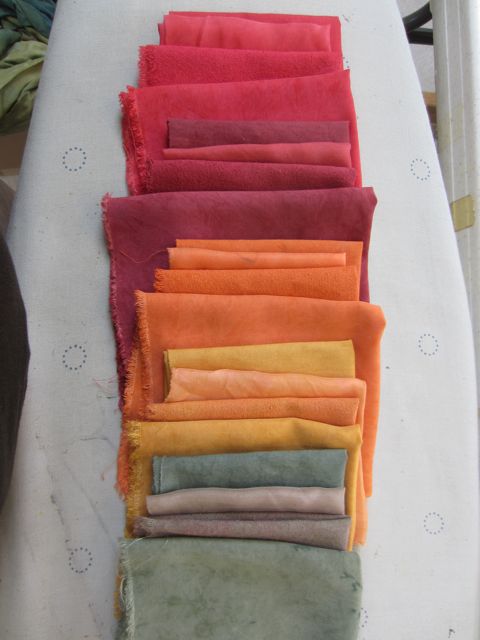 I finally tested five new dye colors I got from ProChem this Summer: Turkey Red, Barn Red, Pumpkin Spice, Butterscotch, and Sage. I dyed cotton, rayon, silk habotai and raw silk samples. Then I tested different discharge agents on each color sample. I used bleach in various formulas, thiourea dioxide, and Decolourant, a commercial discharge that comes as both a paste and a spray.
I used bleach on the cotton and rayon as a diluted spray, in Soft Scrub cleanser, in Clorox Toilet Bowl Cleaner, and in Cascade dishwasher gel. I skipped all these on the silks because the chlorine in bleach is too strong for them and will break down the fibers.
Soft Scrub is a good dependable discharge agent. It bleaches really well and is already thickened so can be used for stamping, stenciling, silk screening, etc right out of the bottle. Don't use it on any silk screens with photo emulsion, though, the bleach will eat away your designs.
The dishwasher detergent didn't work for me at all. It said on the package that it had bleach but I couldn't see any results. My friend Deborah Gregory has used it and gotten good results in the past. We wondered if they had changed the formula since it's been several years since she used it.
My new favorite is the toilet bowl cleaner. It isn't thick enough to hold an edge for stamping, etc but it gives a really interesting halo around the discharged area. It seems that the edges of the liquid discharge faster than the wetter center area. You have to wash it out before the full bleach process has occurred or you lose the effect. So keep an eye on it and a bucket of soapy water close by stop the reaction when you're ready.
The thiox and Decolourant products had very similar effects as far as color. Interestingly the Decolourant discharged the most color on the rayon.
So what do I do with all these samples? I paste them into my dye book. It's my studio bible, where I go to figure out what colors I want to work with and how they will react to discharge. It's an invaluable and evolving resource. I've begun the slow process of reorganizing it and am hoping to have an intern this Fall to get it further into shape. Not glamorous work, but important.