This year's trip to the Black Rock Desert was very different for me than last year's. In 2014 I co-created Playastan Crossroads, an art installation, for Burning Man. The project was ambitious, heartfelt, and a mountain of hard work for our crew. Unlike my other trips to the playa, I was a working artist. I was Cameron Anne Mason, tied to my default persona, and although it was a deeply satisfying experience, it wasn't that much fun.
This time I came to play. Like many other people at Burning Man, I have a "playa name," Trixie LaRue. Trixie is a bit of a flirt, a little bit mischevious, but willing to go deep when the time is right. It's fun to be someone different for that week away from responsibility and expectations.
This year's Burning Man was dustier and windier than usual (though not as dusty as 2008). And it was COLD. Several days it didn't get above 70 degrees and it was in the 30s at night. It was a year to stay close to camp, to connect with others who are moved to come to this beautiful and desolate place for its alternative culture. John Curley wrote a lovely post on the Burning Man blog, And that's that, that summed the intimate feeling of this year's Festival.
My yearly sojourns to the Black Rock Desert have followed an arc of self-awareness. The first year blew the doors off my mind. It helped me realize how many preconceptions we live with. It helped me get out of my own way on the journey to being my whole self. (10 Principles of Burning Man). Since that first year my husband has come with me and we have learned new ways of being a couple. Years four through six, were the RV years, much more comfortable and much more fun, but I missed the lessons learned through hardship. For me, Burning Man shouldn't be just a vacation. My seventh burn I made Playastan Crossroads and we celebrated our 20th Wedding Anniversary by renewing our vows there with our playa family.
This year, my eighth, was not without self-growth along with all the fun I was having. First, I finally realized that there is simply no way to see or experience it all. Of course, that fact is obvious to anyone who's been there, but this year I finally felt at peace with it. I took my opportunities to get out and see art when the weather cleared, but was happy to stay in camp when it was ugly out. I laughed hard, shared stories and formed closer bonds with our amazing camp family from all over California, Seattle, Texas, Boston, and beyond.
The other thing I realized is that I really don't like being out at night that much. It's not just because I'm tired, I'm cold, I'm not a great bicyclist, I'm not doing drugs, although all those things are true. It's because all the lights, and loud music, and people zooming around me are too over-stimulating for me. I did have some good times on the playa after dark, but I really prefer the days.
A peak experience this year was riding alone across the city from where I was visiting a friend's camp all the way across from our camp at 3:00 and Illusion as the wind and dust were rising. After eight years, I know how to be radically self-reliant. With my goggles and bandanna to protect me from the fine alkaline dust, I rode straight across the playa, keeping my bearings as the white outs blew through, following the lamplighter's posts along the Promenades. And as I rode along I felt the powerful among the elements and shouted, "I'm not afraid of Burning Man!"
That, and seeing a flaming piano launched by a trebuchet.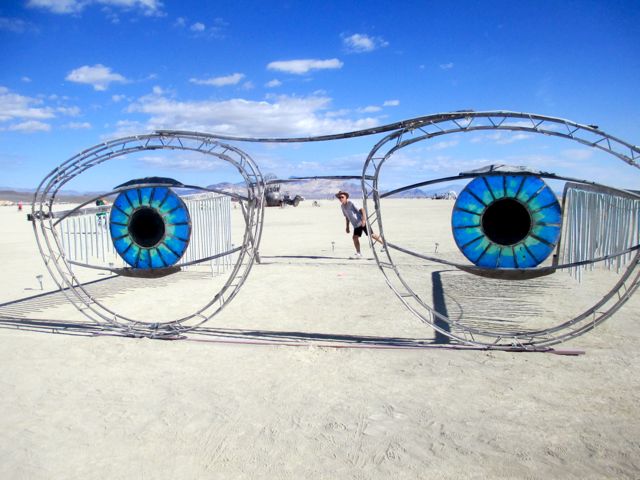 The questions people ask me about Burning Man are fed by the media's perception of the event. "Did you get bitten up by bugs? Did you get rained out? Is the city being taken over by the rich? Did you see Katy Perry? Susan Sarandon? Anyone famous?"
To which I answer: The Bugopolypse was over by the time we got there. Rain was last year.
As far as the wealth and how it divides the event, Black Rock City is a city that, in many ways, is like any other: There are the haves and the have-nots. I compare a trip to Burning Man to a trip to Europe. Rich travelers travel first-class, stay in fancy hotels, eat at four-star restaurants, ride in taxis. Poor students save up for tickets, travel with their backpacks, eat baguettes in the park, take the Metro, and depend on the kindness of strangers. It's the same in Black Rock City. Any judgement on the value of one experience over the other is just that, judgement.
And yes, I saw famous people, but no one those asking would recognize. Every morning I saw Lucky Eric, famous for gifting not just coffee, but a choice of cold brew, french press, or espresso with heavy cream. Izzle, who is famous for creating one of the best, low-tech gray water systems on the playa while looking stunning in a little red dress, pearls and a hard hat. And there's Famous, friend, Ranger, member of DPW who's still there doing DeCon, and who I suspect is his fullest, best self at Burning Man. These are the people who raise my home away from home, Camp 11:11, from the dust. Camp 11:11 hosts the friendliest bar on the playa, a kick-ass art car, and delicious family suppers every night. It's the Shvitz Carleton.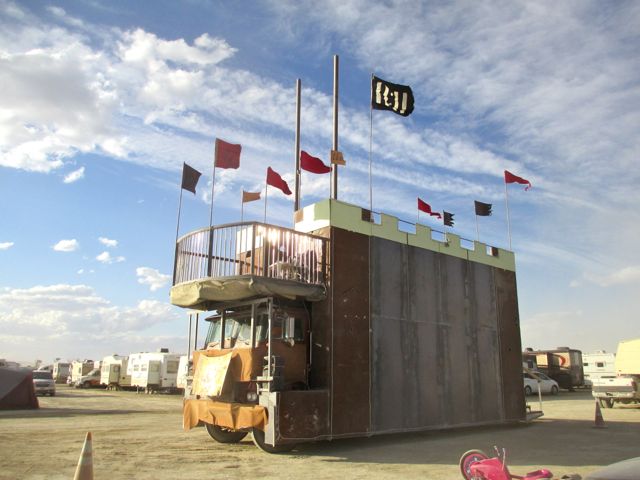 Ever since last year's Burning Man it has been hard for me to move beyond Playastan Crossroads. I put so much of myself into the project that I was drawn dry of inspiration, far beyond what I had experienced before. It was disconcerting that Playastan still had hold of me, that I hadn't felt a sense of completion, even a year later.
When we hit the road toward this year's festival my excitement built and something began to shift. As my husband and I  drove south, we talked about past experiences, the campmates we couldn't wait to see, read the descriptions of this year's art installations and scheduled events both profound and silly. I began to feel a lightness taking over the heaviness that had been with me since 2014.
That night, lying in bed in our cute little trailer just north of Alturas, California I was unable to sleep. I found myself designing my next Burning Man installation in my head. Less ambitious in design, but still meaningful, it will be a place both open and intimate. It  will provide shelter, shade and a sense of place for those travelers who pass their last week of Summer filled with wonder at beauty of community.