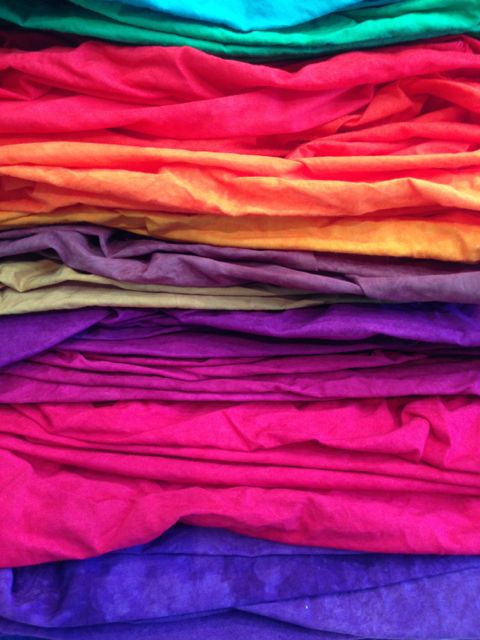 Last Fall I figured the time was right to expand Whirlwind Hand-Dyes by taking on a business partner and expanding into on-line sales. Since then I've been hatching plans with my wonderful former intern from the UW, Arisa Brown. Arisa and I get along great and work together wonderfully. I bring my current product line of hand-dyed fabrics and accessories, Arisa brings her experience in retail sales, and we split the labor of producing the hand-dyed products.
Arisa has already set up an Etsy shop for my hand-dyed scarves. Look for WhirlwindHandDyes there. It's been slow to start but it's giving us time to figure out how to promote and run it. On-line offering of the fabrics will be coming in May.
This past week Arisa and I dyed, washed, ironed and packaged over 100 yards of fabric for an in-person sale at Lorraine Torrence's Retreat in Gold Bar this Friday. Arisa is coming with me so that I can introduce her to Lorraine's students, who have been terrific supporters of my products and become friends, too.
We have simplified our color options but added a second fabric to the product line. We now have a crisp mercerized cotton broadcloth that takes the dyes beautifully along with the Kona cotton I've been using, which has is thicker with a softer drape. We have eleven color ways in both bright and pastel values in two different fabrics–so 44 options all together PLUS what's left over from previous sales.
I'm excited for this new venture. I'm also looking forward to the Whirlwind passing by, and getting back to my studio work for this Summer's upcoming shows.
Let me know if you are interested in our products or have feedback about fabrics and color ways. Even though we don't officially have on-line fabric sales going yet, I can hook you up.