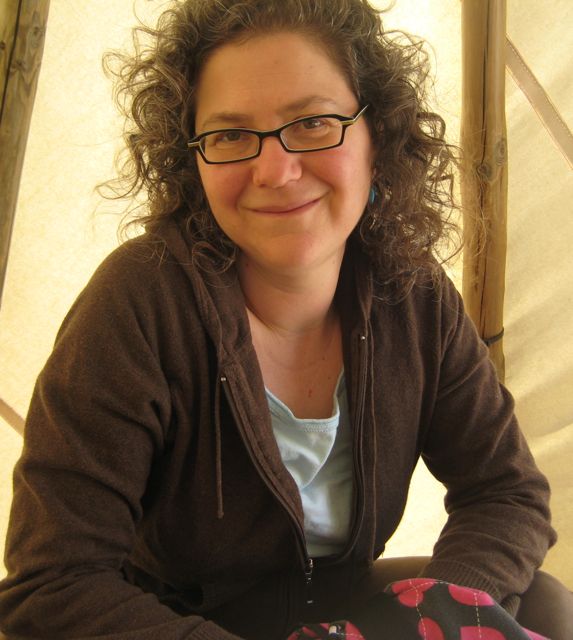 Cameron Anne Mason creates artwork that delves deeply into surface design technique, and brings that depth to her sculptural work. Inspired by nature and the touch of human hands upon it, Cameron's art is a response to the world around through surface, form and stitch.
Cameron was introduced to fiber art by using batik as a way to create large-scale elements for performance. Intrigued by the possibilities, Cameron came upon the work of Jane Dunnewold and her notion of Complex Cloth. Through a process of reading and experimenting, Cameron has developed an extensive knowledge of surface design techniques. Her endless fascination with color and texture on cloth informs all of her artwork. Drawing on with her background in graphic design and her early work in performance, Cameron creates fine art for the gallery, celebration art for performance, and interactive installations.
Cameron says of her work, "Fabric is fundamental to my process. It is an intimate part of our lives. It protects us from the elements, gives us comfort, and a means to express ourselves. It is sensual and essential. I am drawn to fabric because of its changeability and its constancy. Fabric is the skin that clothes my work."
Cameron Anne Mason is represented by Foster/White Gallery and has shown widely with the Contemporary Quilt Art Association. Cameron traveled to Rio de Janeiro in 2011 to present at the Rio Patchwork Design Show where she was awarded the Audience Choice Award in 2010. Cameron is a member of Northwest Designer Craftsman, Surface Design Association, Contemporary Quilt Art Association, and the Fremont Arts Council.
Cameron gets great satisfaction from sharing her knowledge with students young and old. She shares her extensive research, studio technique, and a sense for exploration and experimentation with students in her workshops. She teaches surface design techniques including: dyeing, discharge, batik, using resists, and printing on fabric using silk screens and other tools. Cameron teaches regularly at Pratt Fine Arts Center in Seattle, will be teaching at the SDA/SAQA 2012 Convention, and has led festival arts workshops for Seattle Tilth, the Fremont Arts Council and the Oregon Country Fair.